BWH is recognized as a leader in both patient care and research, with expertise in virtually every specialty of medicine and surgery, and research spanning from basic to clinical and translational. The BWH medical preeminence dates back to 1832, and today that rich history in clinical care is coupled with its national leadership in quality improvement and patient safety initiatives, and its dedication to educating and training the next generation of health care professionals. Through investigation and discovery conducted at its Biomedical Research Institute (BRI), BWH is an international leader in research on human diseases, involving more than 1,000 physician-investigators and renowned biomedical scientists and faculty supported by more than $640 M in funding.
Awards & Honors - Nov 28, 2012
Christopher Receives SCCM Sepsis Specialty Award
Kenneth Christopher, MD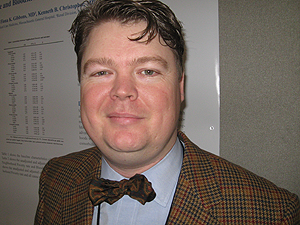 Kenneth Christopher, MD
Kenneth Christopher, MD, associate physician in the Renal Division at BWH, received the 2013 Sepsis Specialty Award from the Society of Critical Care Medicine (SCCM) in recognition of excellence in critical care research.
Christopher has published on critical care outcomes numerous times and has received SCCM's Annual Scientific Award twice. Christopher and his team's abstract titled "Pre-Hospital Vitamin D Deficiency and Sepsis in the Critically Ill" was chosen by SCCM for the Sepsis Specialty Award recognizing their efforts and will be formally presented during the society's annual Congress Award Presentation in January 2013. The Society of Critical Care Medicine (SCCM) is the only professional organization devoted exclusively to the advancement of multi-professional critical care medicine through excellence in patient care, education, research and advocacy. Established in 1970, the Society was created to educate medical professionals and the community about the need for intensivists and critical care practitioners.