BWH is recognized as a leader in both patient care and research, with expertise in virtually every specialty of medicine and surgery, and research spanning from basic to clinical and translational. The BWH medical preeminence dates back to 1832, and today that rich history in clinical care is coupled with its national leadership in quality improvement and patient safety initiatives, and its dedication to educating and training the next generation of health care professionals. Through investigation and discovery conducted at its Biomedical Research Institute (BRI), BWH is an international leader in research on human diseases, involving more than 1,000 physician-investigators and renowned biomedical scientists and faculty supported by more than $640 M in funding.
Awards & Honors - Jan 22, 2013
Manson Receives Leadership Award
JoAnn E. Manson, MD, DrPH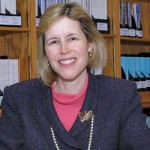 JoAnn E. Manson,
MD, DrPH
JoAnn E. Manson, MD, DrPH, chief of the Division of Preventive Medicine, has been selected to receive the Bernadine Healy Award for Visionary Leadership in Women's Health. She will be honored during the Annual Congress of Women's Health in Washington, D.C., in March 2013. Manson is being recognized for her exceptional contributions and leadership in the field of women's health and prevention of cardiovascular disease in women.
The Bernadine Healy Award was created in honor of the work and memory of Bernadine Healy, MD, former National Institutes of Health (NIH) director, founding editor of the Journal of Women's Health, and a renowned advocate for women's health. Through her tireless passion and leadership, Dr. Healy encouraged discourse and exchange of information among health care professionals with the ultimate goal of promoting women's health as a high national priority.