BWH is recognized as leader in both patient care and research, with expertise in virtually every specialty of medicine and surgery, and research spanning from basic, to clinical and translational. The BWH medical preeminence dates back to 1832, and today that rich history in clinical care is coupled with its national leadership in quality improvement and patient safety initiatives and its dedication to educating and training the next generation of health care professionals. Through investigation and discovery conducted at its Biomedical Research Institute (BRI), BWH is an international leader in research on human diseases, involving more than 1,000 physician-investigators and renowned biomedical scientists and faculty supported by more than $640 M in funding.
For the past 20 years, BWH has earned a place on the U.S. News & World Report's Honor Roll of America's Best Hospitals. The physicians, researchers and staff at BWH are recognized for excellence across specialties, while as an institution, the hospital also receives numerous accolades as care provider, employer, and more.
Awards & Honors - Jan 5, 2015
Johnson Receives 2014 Public Health Leadership Award
Paula A. Johnson, MD, MPH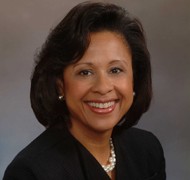 Paula A. Johnson, MD, MPH
Paula A. Johnson, MD, MPH, executive director of BWH's Connors Center for Women's Health & Gender Biology and chief of the Division of Women's Health was awarded the 2014 Public Health Leadership Award by the Friends of Brookline Public Health at its annual meeting in December.
Johnson, a resident of Brookline, is an internationally known cardiologist and leader in women's health who was recently elected to the Institute of Medicine. She also serves as the commissioner and chair of the board of Boston Public Health Commission.
The Brookline Health Department provides a range of environmental, community and clinical health services to improve the quality of life for people who live in Brookline.