BWH is recognized as a leader in both patient care and research, with expertise in virtually every specialty of medicine and surgery, and research spanning from basic to clinical and translational. The BWH medical preeminence dates back to 1832, and today that rich history in clinical care is coupled with its national leadership in quality improvement and patient safety initiatives, and its dedication to educating and training the next generation of health care professionals. Through investigation and discovery conducted at its Biomedical Research Institute (BRI), BWH is an international leader in research on human diseases, involving more than 1,000 physician-investigators and renowned biomedical scientists and faculty supported by more than $640 M in funding.
Awards & Honors - Jan 6, 2015
Gruenberg Receives Fulbright Specialists Award
Lisa J. Gruenberg, MD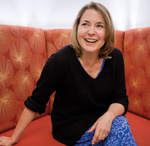 Lisa J. Gruenberg, MD
Lisa J. Gruenberg, MD, a physician in BWH's Department of Obstetrics and Gynecology, has been selected for the Fulbright Specialists Program at the University of Melbourne Medical School's Rural Health Academic Centre in Australia in March 2015.
Gruenberg is one of more than 400 U.S. faculty and professionals who will travel abroad this year through the Fulbright Specialists Program. This program, created in 2000 to complement the traditional Fulbright Scholar Program, provides short-term academic opportunities to prominent U.S. faculty and professionals to support curricular and faculty development and institutional planning at post-secondary academic institutions around the world.
Gruenberg will be reviewing the university's innovative rural intern training program, with particular emphasis on women's health, and focusing on curriculum content and delivery in a rural setting. She will be involved in training rural clinical educators.
The Fulbright Program, America's flagship international educational exchange activity, is sponsored by the U.S. Department of State Bureau of Educational and Cultural Affairs. In its 60 years of existence, thousands of U.S. faculty and professionals have taught, studied or conducted research abroad, and thousands of their counterparts from other countries have engaged in similar activities in the United States. More than 285,000 emerging leaders in their professional fields have received Fulbright awards, including individuals who later became heads of government, Nobel Prize winners and leaders in education, business, journalism, the arts and other fields.