BWH is recognized as a leader in both patient care and research, with expertise in virtually every specialty of medicine and surgery, and research spanning from basic to clinical and translational. The BWH medical preeminence dates back to 1832, and today that rich history in clinical care is coupled with its national leadership in quality improvement and patient safety initiatives, and its dedication to educating and training the next generation of health care professionals. Through investigation and discovery conducted at its Biomedical Research Institute (BRI), BWH is an international leader in research on human diseases, involving more than 1,000 physician-investigators and renowned biomedical scientists and faculty supported by more than $640 M in funding.
Awards & Honors - Dec 13, 2017
Mariño-Enríquez Earns Premio Extraordinario de Doctorado
Adrian Mariño-Enríquez, MD, PhD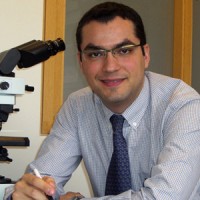 Adrian Mariño-Enríquez, MD, PhD
Adrian Mariño-Enríquez, MD, PhD, of the Department of Pathology, was awarded the prestigious "Premio Extraordinario de Doctorado" (Extraordinary Doctorate Award) by Spain's Universidad Autónoma de Madrid in recognition of his PhD thesis dissertation for the 2015-2016 academic year, "Novel Therapeutic Targets in Gastrointestinal Stromal Tumors, Discovered Through Genomic shRNA Library Screens."
The award, presented on Nov. 28, was given to the top 1 to 2 percent of national doctoral recipients. The Premio Extraordinario is a nationally notable distinction awarded following a pre-selection process from Professors from at least three different Spanish universities; evaluators judge the quality and impact of the work, followed by a final selection by an ad-hoc interdepartmental committee.
The work underlying the dissertation was performed at BWH between 2010-2015 when Mariño-Enríquez was a research fellow in the laboratory of Jonathan Fletcher. Mariño-Enríquez now serves as principal investigator of the Mariño Lab in the Department's Sarcoma Translational Research Unit, where he studies sarcoma – a cancer that occurs in connective tissues – with an emphasis on molecular genetics and therapeutic target discovery.