First Year of Fellowship
First year fellows are allowed time for independent study for two to three months of the first year. First year fellows are expected to use this time to focus their research interests and identify a mentor, and begin designing research projects to be executed during their second and third years of fellowship. During the independent study rotation, fellows do not cover the inpatient consult service, unless they are assigned to weekend on-call coverage. However, they do continue to participate in all of the scheduled ambulatory clinic rotations.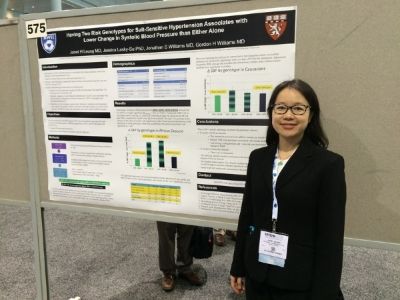 One of our recently graduated fellows (Janet Leung) presenting her research at Endo 2015
Second and Third Years of Fellowship
By the end of the first year of fellowship, fellows typically have identified a primary research mentor and formulated research projects to be conducted during the second and third years of fellowship. All second and third year fellows also attend and participate in the Endocrine Research Conference, which occurs weekly and offers the opportunity for both basic and clinical research faculty and fellows to present their ongoing research.
Some fellows choose to receive didactic training in research during their second and third years of fellowship. For fellows with an interest in clinical/translational science, an option is the Clinical Translational Research Academy (CT Academy) at Harvard Medical School. This program is free and provides one-two years of didactic training in methods essential for patient-oriented and translational research. Upon completion of this program, graduates receive a certificate of completion from Harvard Medical School, and are typically well poised for receiving ongoing mentored funding. There are a range of other Masters level training programs that are available to fellows, including programs in Immunology, Medical Education, Global Health Delivery and Bioinformatics. These programs are not free of charge and funding cannot be guaranteed.
Several non-degree courses are also available free of charge through Harvard Catalyst – more information is available at http://catalyst.harvard.edu/education.html. A few particularly well-received courses are:
Several fellows have also participated in the Summer Program in Clinical Effectiveness at Harvard School of Public Health. This program is also not free of charge and availability of funding cannot be guaranteed.
Introduction to Fellowship Research Opportunities, by Division Chief Dr. Ursula Kaiser