The Program for Weight Management is located at 221 Longwood Avenue Boston, Ma 2nd floor.
The location is marked by a white arrow on the map below. Our location is easily accessible. Please see below for driving directions, and for public transportation options.
FREE PARKING: There is valet parking free of charge for PWM patients from 5:00 – 8:00 p.m. on Wednesdays. When you drive into the roundabout, tell the valet attendant you are there for the Program for Weight Management.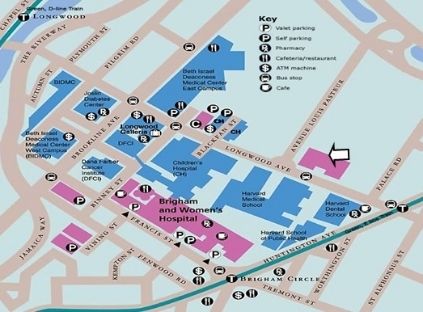 Driving:
From the West: Head east on the Mass Pike to exit 22 (Prudential/Copley). Stay left on the exit ramp following the signs for the Prudential Center. You will exit onto Huntington Avenue (Route 9 West). Follow past the Museum of Fine Arts and Mass. College of Art and go right onto Longwood Avenue. 221 Longwood Avenue is on your right. Valet parking is available in front of the building.
From the South: Head north on Route 3. Take the Massachusetts Ave./Roxbury exit. At the end of ramp, cross Massachusetts Avenue onto Melnea Cass Boulevard. At the 8th traffic light, go left onto Tremont Street. Take first right onto Ruggles Street. Turn left onto Huntington Avenue at intersection with Ruggles Street. Turn right onto Longwood Avenue. 221 Longwood is on the right-hand side of the street.
From Routes 93 North or South: Take the Storrow Drive exit. At the top of the exit ramp, bear right at the first traffic light. Continue straight for 1/2 mile (the road will become Brookline Avenue). Turn left onto Longwood Avenue. The main entrance for 221 Longwood Avenue is on the left, just after the Longwood Avenue and Avenue Louis Pasteur intersection. Valet parking is available in front of the building.
MBTA
Trolley/Subway Green Line – either D or E
"E" Line: Heath/Arborway car Stop: Longwood Medical Area
"D" Line: Riverside car Stop: Longwood
Buses
Bus No. 66
Harvard Square to Dudley Station, via Allston and Brookline Village
Stop: Brigham Circle
Bus No. 65
Brighton Center - Kenmore Sta. via Washington St., Brookline Village & Brookline Ave
Stop: The corner of Francis Street and Brookline Avenue
Bus No. 60
Chestnut Hill - Kenmore Station via Brookline Village and Cypress St.
Stop: The corner of Francis Street and Brookline Avenue
Bus No. 47
Central Sq., Cambridge - Broadway Station via South End Medical Area, Dudley Station & Longwood Medical Area
Stop: Longwood Avenue in front of Children's Hospital
Bus No. 39
Forest Hills Sta. - Back Bay Sta. via Huntington Ave.
Stop: Brigham Circle
Bus No. 8
Kenmore Station
Stop: First stop on Longwood Avenue
Bus No. CT2
Sullivan Station - Ruggles Station via Kendall/MIT & Longwood Medical and Academic Area
Stop: The corner of Longwood and Huntington Avenues
Bus No. CT3
Beth Israel Hospital - Andrew Station via B.U. Medical Center/BCH
Stop: The corner of Avenue Louis Pasteur and Longwood Avenue